Description
Shaw Savill and Albion Co. Ltd.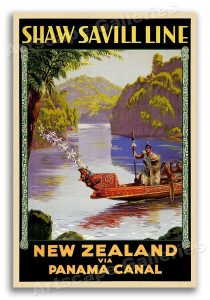 From 1858 until the company's final demise in 1974 it provided a major shipping service for cargo, emigrants, tourists, etc. between New Zealand and the UK.
The CAL is based on a poster shown right. Painted c1930 by Edward J Waters (1882-1952) and printed by Gibbs and Gibbs Ltd, Lithographers, London. The design depicts a carved waka (canoe) paddled through a bush-clad river gorge (possibly on the Whanganui River), a figure standing in the bow and holding a taiaha (staff).
[Read more about
Shaw Savill & Albion Line
.]