Description
Union Steam Ship Co. of New Zealand Ltd.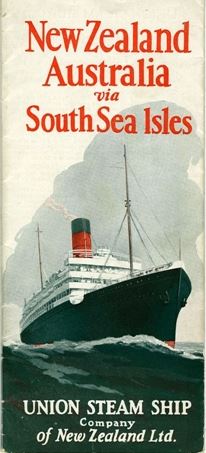 Founded in Dunedin, New Zealand in 1875 the Union Steam Ship Co. was once the biggest shipping line in the Southern Hemisphere. For over half of its 125 year history it was New Zealand's largest private sector employer.
The CAL is based on the cover of a Union Steam Ship Co. c1920 travel brochure which included photographic illustrations and text describing the Union Service Line and their Grand Pacific Tour.
The ship on the cover (illustrator not known) is thought to be the Makura. "Later vessels were more likely to have two funnels, among other identifying features." [Source: Auckland Maritime Museum]. The Makura operated the Pacific routes linking Auckland, Sydney, Suva, Honolulu, Vancouver or Wellington, Sydney, Rarotonga, Tahiti, San Francisco during the period 1908-1936.
[Read more about
Union Steam Ship Co.
]